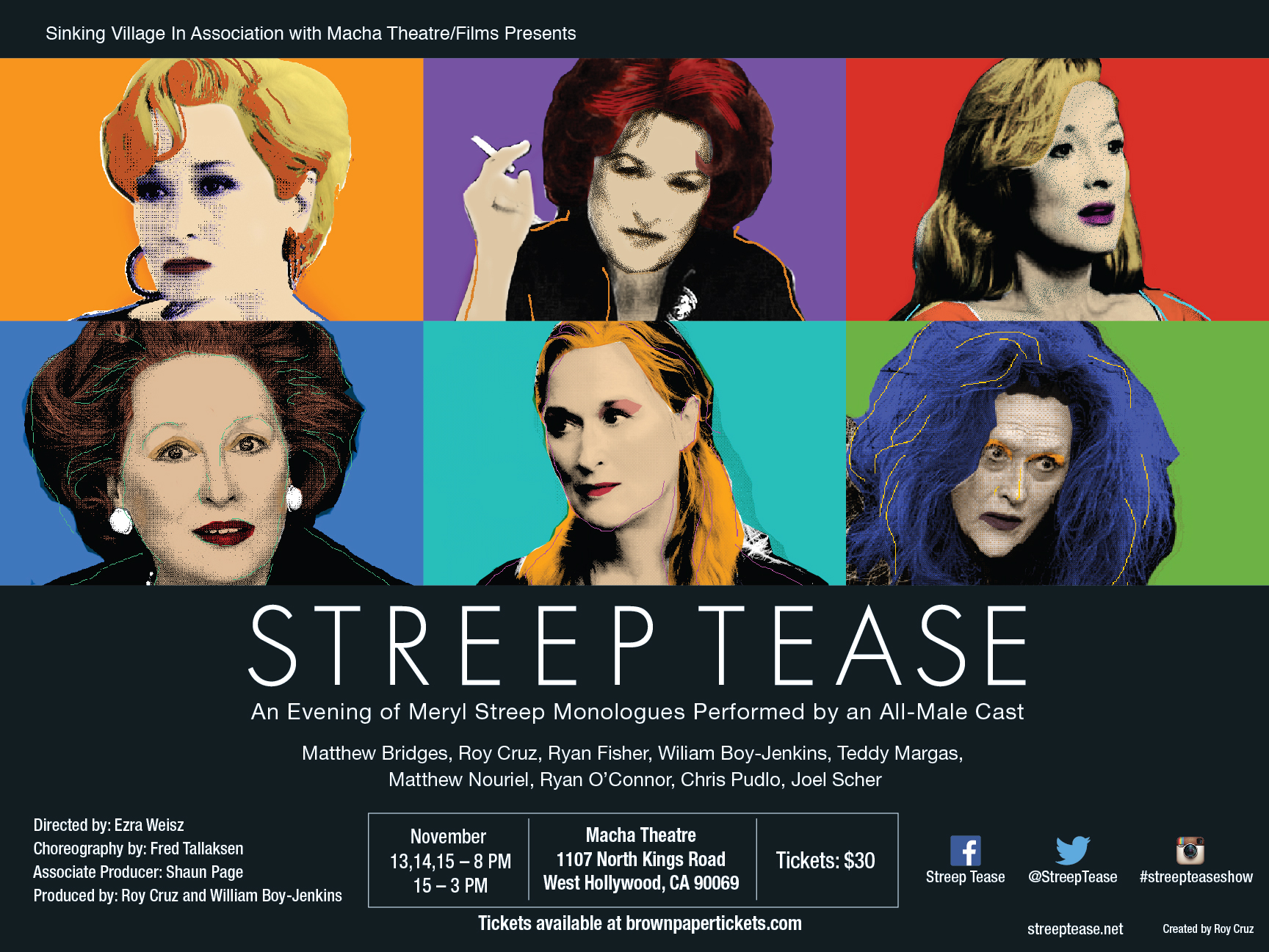 STREEP TEASE: AN EVENING OF MERYL STREEP MONOLOGUES PERFORMED BY AN ALL-MALE CAST.
Created by Roy Cruz
What started out as a one-night stand in 2009 quickly became a long term relationship with the ever fascinating and brilliant actress Meryl Streep.  After playing in Los Angeles from 2009-20012 and performances in San Francisco and New York, the critically acclaimed and box office hit Streep Tease is back again where it all began, in Los Angeles.
Streep Tease is a show made up of male actors performing their own interpretations of their favorite Meryl Streep characters. We all love Meryl, we all have our favorite scene and there's no better way to pay tribute to her than to channel La Streep on stage.  With a new cast, new characters, more drama, more comedy, we promise to bring you the best and ultimate tribute. So join us in celebrating our inner Streep!
NOVEMBER 13, 14 – 8 PM
NOVEMBER 15, 3PM and 7 PM
MACHA THEATER
1107 NORTH KINGS ROAD, WEST HOLLYWOOD,  CA 90069
Starring: Matthew Bridges, Roy Cruz, Ryan Fisher, William Boy-Jenkins, Teddy Margas, Matthew Nouriel, Ryan O'Connor, Chris Pudlo and Joel Scher
Produced by Roy Cruz and William Boy Jenkins
Directed by Ezra Weisz
Choreography by Fred Tallaksen
Associate Producer: Shaun Page